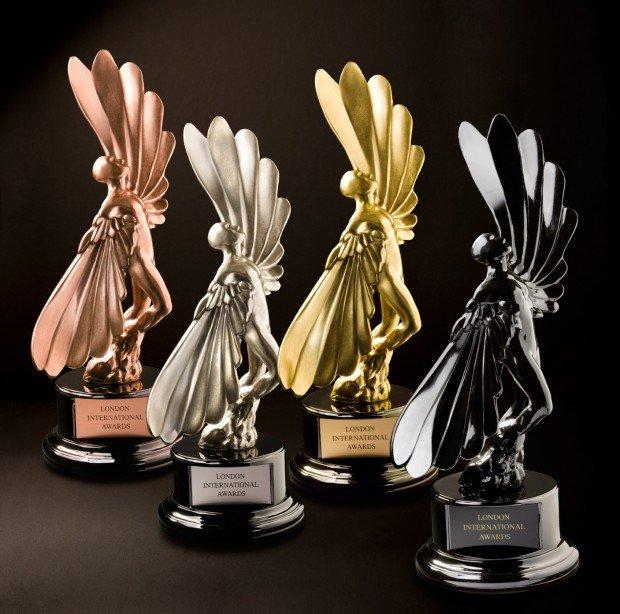 I London International Awards, noti anche come LIA Awards, nascono nel 1985 con l'intento di premiare i migliori prodotti creativi delle principali agenzie del mondo. Rappresentano l'occasione ideale per socializzare con colleghi e personaggi del mondo dell'advertising in modo tale da mettere a confronto le strategie creative più interessanti.
La Cerimonia di Premiazione si è tenuta il 4 novembre a Las Vegas. I vincitori sono tantissimi così come le categorie: Billboard, Design, Digital, Integration, Music - Video, Non-traditional, Package Design, Poster, Print, Radio, The NEW, Tv/Cinema/Online Film, Tv/Cinema/Online Film - Music & Sound, Tv/Cinema/Online Film - Production. Senza considerare i Grand LIA e gli Awards of the Year.
Uno dei progetti più interessanti riguarda le Creative Conversations, un programma lanciato nel 2012 da LIA e che si rivolge ai giovani creativi. Gli Awards si propongono di riconoscere le idee migliori e innovative per ampliare il settore ed offrire nuovi suggerimenti per ruoli professionali per le agenzie creative. Non vi è alcun limite alla creatività. La giuria è composta da più di 100 esperti delle agenzie creative, aziende di comunicazione e tecnologia.
Vi presentiamo alcuni dei più interessanti geni creativi di questa edizione che hanno ricevuto i GOLDEN AWARDS.
Billboard
I vincitori della Categoria Billboard sono: Ogilvy Paris per la campagna di IBM "Smart Cities"; Mayo Draftfcb per The University of Engineering and Technology con la campagna "Potable Water Generator" e DDB New York per il NYC Ballet con la campagna "Les Ballets de Faile - Art Series".
IBM e Ogilvy
[yframe url='http://www.youtube.com/watch?v=4_oaWkXWujI']
Advertising Agency: Ogilvy Paris, Paris
Chief Creative Officer: Chris Garbutt
Executive Creative Director: Susan Westre
Creative Director: Ginevra Capece
Copywriters: Lauren Elkins, Andrew Mellen
Art Directors: Daniel Diego Lincoln, Chris Rowson
Photographer: Bruno Bicalho Carvalhaes
Le idee semplici possono cambiare il mondo. La vita nelle città può diventare migliore. IBM è stata veramente "smart".
UTEC e l'acqua potabile
[yframe url='http://www.youtube.com/watch?v=FWwii1dX4v8']
UTEC, L'Università di Ingegneria e Tecnologia, crede che il mondo possa essere cambiato attraverso l'ingegneria. Tutto inizia a Lima in cui nasce il primo Billboard al mondo capace di produrre acqua potabile.
Client Account Director: Jessica Ruas
Agency Account Director: Ines Lertora
Agency: Mayo Draftfcb, Lima
Chief Creative Officer: Humberto Polar
Creative Directors: Alejandro Aponte, Juan Donalisio
Copywriter: Alejandro Aponte
Art Director: Juan Donalisio
Design
I vincitori per la Categoria Design sono: Serviceplan di Monaco per Auchan con "The selfscan report"; The Mill di Londra per YDA con "YDA Title Sequence";  Hakuhodo Inc. di Tokyo per ad:tech tokyo 2012 con la "Magnetic World Campaign", "Magnetic World 2", " Magnetic World 3"; McCann Melbourne per Metro Trains con "Dumb Ways To Die"; Leo Burnett Toronto per Rooster Post Production con "Calendar of Large Cocks"; Ogilvy & Mather Colombia per Coca-Cola con "Real Ice Cold Coca-Cola"; Leo Burnett Tailor Made di São Paulo per Hemoba con "My Blood is Red and Black" e per FIAT con la campagna "F", "N", " R", " L", " Z".
Coca Cola
[yframe url='http://www.youtube.com/watch?v=q4-2VYDHxLc']
Agency: Ogilvy & Mather Colombia , Bogotá
Global Chief Creative Officer: Thai Khai Meng
Chief Creative Officer: John Raul Forero
Executive Creative Directors: Juan Pablo Alvarez, Mauricio Guerrero
Creative Directors: Ivan Rivera, Camilo Ruano
Copywriters: Ivan Rivera, John Raul Forero
Art Directors: Camilo Ruano, Mario Virgüez, Fernando Parra, Manuel Alvarez
Photographer: Dario Mora
FIAT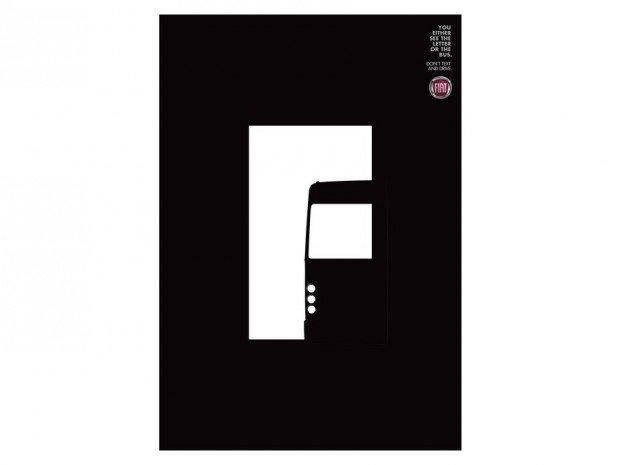 Agency: Leo Burnett Tailor Made, São Paulo
Chief Creative Officer: Marcelo Reis
Executive Creative Director: Guilherme Jahara
Copywriters: Marcelo Henriques, Paulo Henrique Gomes
Art Director: Tiago Valadão
Illustrator: Tiago Valadão
Digital
I vincitori per la Categoria Digital sono: McCann Melbourne per Metro Trains; Anomaly di Toronto per Budweiser con "Budweiser Red Lights"; DDB DM9JaymeSyfu/Digit di Makati City per Smart Public Affairs con "TXTBKS"; Draftfcb New Zealand di Auckland per SPCA - Pet Adoption con "Driving Dogs"; Åkestam Holst di Stoccolma per Swebus con "The Train Switch".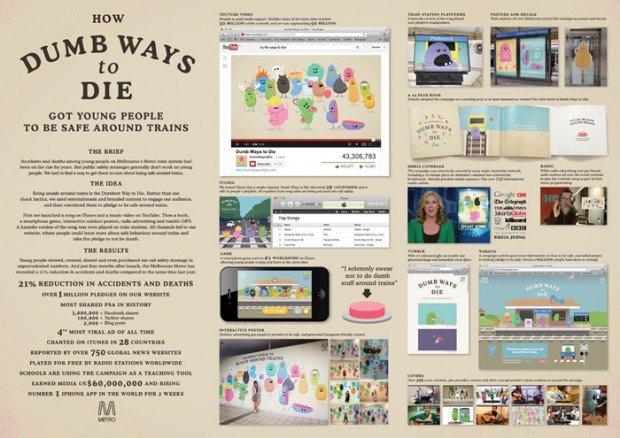 Swebus
[yframe url='http://www.youtube.com/watch?v=L5d2waCJy9g']
Agency Account Director: Magnus Hamberg
Planner: Patrik Karlsson
Agency: Åkestam Holst
Creative Director: Andreas Ullenius
Copywriter: Adam Reuterskiöld
Art Director: Fredrik Josefsson
Production Manager: Bella Lagerquist
Graphic Designers: Olov Öqvist, Jens Broman
Digital Production Company: State Interactive
Interactive Producer: Johan Eklund
Integration
Per la categoria Integration vincono McCann Melbourne per Metro Trains con "Dumb Ways to Die" e l'agenzia Ogilvy Brasil di Sao Paulo trionfa con ben due campagne, una per Dove con "Real Beauty Sketches" e per Sport Club Recife con "Immortal Fans".
Dove
[yframe url='http://www.youtube.com/watch?v=55-1ZxwE-DI']
Agency: Ogilvy Brasil, Sao Paulo
Chief Creative Officer: Anselmo Ramos
Executive Creative Directors: Roberto Fernandez, Paco Conde
Copywriter: Hugo Veiga
Art Director: Diego Machado
Executive Agency Producer: Fabiano Beraldo
Agency Producers: Veronica Beach, Renata Neumann, Libby Fine, Wagner Gomes
Creative Technologist: Juscelino Vieira
Photographer: Ed David
Illustrator: Gil Zamora
Music - Video
I vincitori per la Categoria Music Video sono: Great Guns di Londra per Neft Vodka con il provocatorio video "Bad Motherfucker"; Gent and Son di Santa Monica per Joel Compass con "Back To Me"; Smith and Jones Films di Londra per Lullaby con "Start Again" e Gent and Son di Santa Monica per Laura Welsh con "Cold Front".
Neft Vodka
[yframe url='http://www.youtube.com/watch?v=Rgox84KE7iY']
Production Company: Great Guns, London
Director: Ilya Naishuller
Executive Producers: Ekaterina Kononenko, Ilya Naishuller
Producer: Igor Polishuk
Director of Photography: Sergey Valyaev
Editor: Ilya Naishuller
Sound Designers: Rostislav Kaptur, Dmitry Evgrafov
Music Performed By: Biting Elbows
Non - Traditional
I  vincitori della Categoria Non Traditional sono tantissimi, tra essi possiamo citare:  Leo Burnett di Sydney per Coca-Cola con "Small World Machines"; Cheil Worldwide di Seoul per Samsung Life Insurance con "Bridge of Life"; Ogilvy Beijing per PETA con "Fur Hurts"; DDB New YorK per Water is Life con "Hashtag Killer" e Publicis Italy di Milano per Heineken con "The Candidate".
Heineken - The Candidate
Imperdibile.
[yframe url='http://www.youtube.com/watch?v=j5Ftu3NbivE']
Agency: Publicis Italy , Milan
Creative Directors: Bruno Bertelli, Cristiana Boccassini
Copywriter: Michele Picci
Art Director: Marco Viganò
Executive Agency Producer: Mariella Maiorano
Graphic Designer: Santi Urso
Production Company: State 31
Executive Producer: Rogier Sol
Producer: Sara Nix
Package Design
Il vincitore della categoria Package Design è: Ogilvy Paris per Coca-Cola con "The Sharing Can"
Coca Cola - The Sharing Can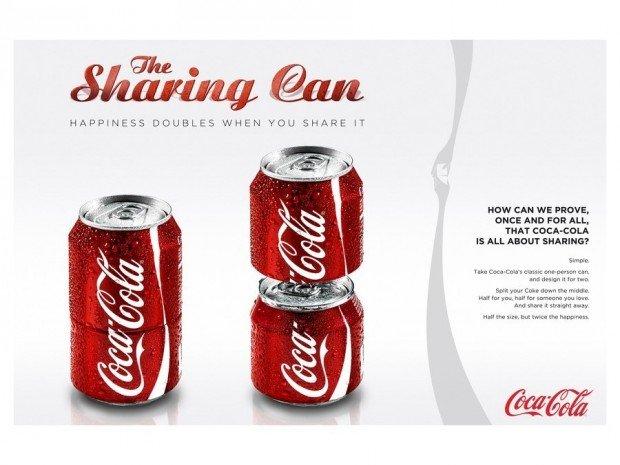 Poster
La medaglia d'oro per la Categoria Poster va a AMVBBDO London per il Museo dell'Infanzia.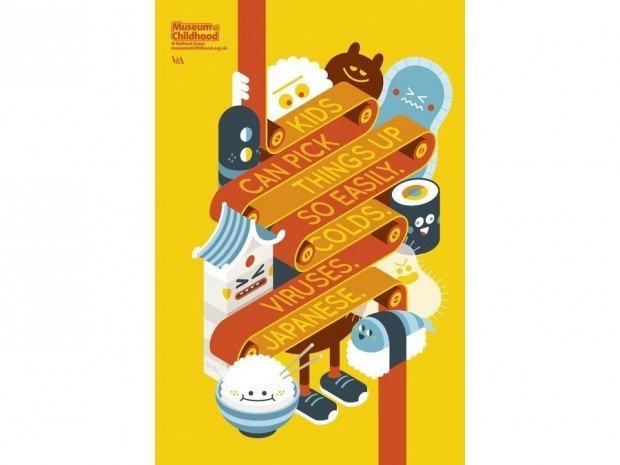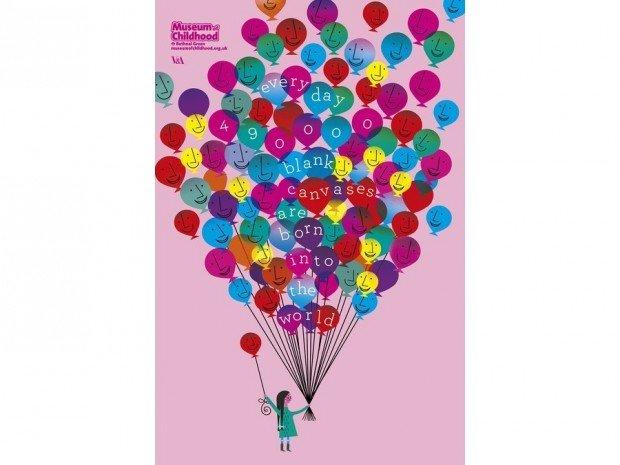 Corporate Name of Client: V&A Museum of Childhood
Executive Creative Director: Paul Brazier
Copywriter: Mark Fairbanks
Art Director: Thiago de Moraes
Art Buyer: Kirstie JohnstoneE
Illustrators: Lesley Barnes, LouLou & Tummie, Till Haffenbrack
Print
I vincitori della Categoria Print sono: Ogilvy Brasil per Dove con "Florence", "Kela", " Melinda", " Jenise"," Lani"; Publicis Singapore per Crisis Relief con "War", "Earthquake", " Flood"; Y&R Dubai per Harvey Nichols Dubai con "Maximum Impact".
Harvey Nichols Dubai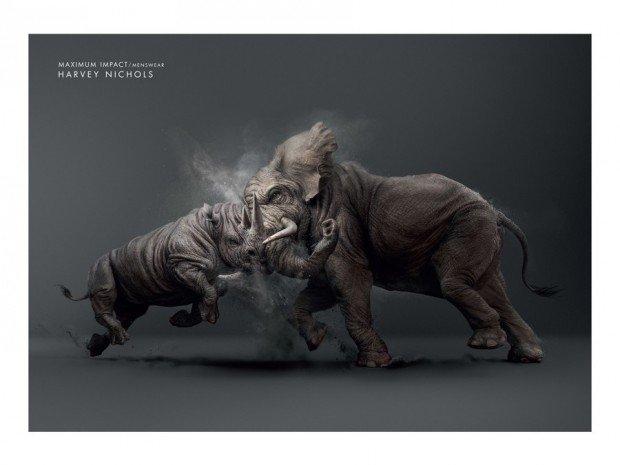 Agency: Y&R Dubai , Dubai
Chief Creative Officer: Shahir Zag
Creative Directors: Shahir Zag, Kalpesh Patankar
Copywriter: Shahir Zag
Art Director: Kalpesh Patankar
Agency Producer: Amin Soltani
Photographers: Surachai Puthikulangkura, Kitidej Rattanasuvansri
Illustration Company: Illusion , Bangkok
Illustrators: Surachai Puthikulangkura, Supachai U-Rairat
Photography Studio: Illusion
Illusion Producers: Somsak Pairew, Anotai Panmongkol
Radio
Tra i vincitori della Categoria Radio ricordiamo:  Kolle Rebbe di Amburgo per Deutsche Lufthansa Intercontinental Flights con "The Poetry Of The USA" e "The Poetry Of Asia"; Ogilvy & Mather di Londra per Dove Brand con "Big Smacking Kiss" e DDB Canada per il Toronto Jewish Film Festival con "Clogged".
The NEW
I vincitori della Categoria The New sono: 
JWT Cairo per Vodafone con "Fakka"; 
Forsman & Bodenfors per E.ON con "Sweden's Largest Energy Saving Experiment" e AgenciaClick Isobar di São Paulo per SKY Brasil con "SKY REC".
Vodafone
[yframe url='http://www.youtube.com/watch?v=FqV_ZYNqWKw']
Agency: JWT, Cairo
Chief Creative Officer: Ramsey Naja
Associate Creative Directors: Sameh George, Youssef Gadallah
Production Company: ASAP , Cairo
Director: Mariam Abu Ouf
Producer: Khaled Zaki
Art Directors: Baher Raouf, Rami El Kerdani
TV/Cinema/Online Film
"Whatever's Comfortable~ Beach"
[yframe url='http://www.youtube.com/watch?v=ygeWsoYYMuQ']
Agency: Wieden+Kennedy New York , New York
Executive Creative Directors: Scott Vitrone, Ian Reichenthal
Creative Directors: Scott Vitrone, Ian Reichenthal
Copywriter: Nick Kaplan
Art Director: Jeff Dryer
TV/Cinema/Online Film
Music & Sound
Nike - Parallel Journeys
[yframe url='http://www.youtube.com/watch?v=52tY338hhdg']
Agency: JWT , Bangalore
Executive Creative Director: Senthil Kumar
Copywriter: Senthil Kumar
Agency Producers: Anupama Ahluwalia, Parimala George
Production Company: Ramesh Deo Production , Mumbai
TV/Cinema/Online Film
Production|Post Production
Toccante e fortissimo uno dei vincitori di questa Categoria. Si tratta di "98% Human" per Peta opera dell'agenzia creativa BBDO di New York.
[yframe url='http://www.youtube.com/watch?v=5QUqp6VJIKI']
Agency: BBDO New York
Chief Creative Officer: David Lubars
Executive Creative Director: Toygar Bazarkaya
Associate Creative Directors: Daniel Aykurt, Alessandro Fruscella
Copywriter: Alessandro Fruscella
Art Director: Daniel Aykurt
Executive Agency Producer: Brian Mitchell
VFX Company: The Mill